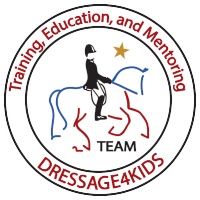 There are 4 components to the D4K TEAM Program Application:
Application form (fillable fields below)
YouTube video link (may be typed into fillable form, further details below)
Letter of recommendation should be sent via email to d4k.org@gmail.com.
$25 non-refundable application fee (clinic fees are separate)
Acceptance to the TEAM Program does not guarantee acceptance to a particular clinic.
The selection process for TEAM clinics will begin approximately 5 weeks prior to a stated clinic from those who have indicated interest (both current TEAM members and new applicants). After that time, riders will be considered as space is available.  Dressage4Kids reserves the right to make all final decisions.
Fill out the application using the fillable form fields below or email the application to: d4k.org@gmail.com.  Please indicate if you would like to be considered for a particular clinic.  For a list of upcoming clinics, please visit our Event Calendar.
All form fields are required.  Incomplete forms will not be processed.